Around the world in 5 theatres
09-09-2021 | 2289
Theatre is amazing for so many reasons. It provides an escape from the every humdrum, it gives us an opportunity to learn about different people, culture and history and it also helps us to connect with people in so many different ways. For those reasons (and plenty more!), theatres are famed around the world.
From the Sydney and Cambodia to Vietnam and New York, I'll be sharing memories from shows I have seen around the world and those that I am looking forward to seeing in the West End this year. Grab a cuppa and settle in for a trip around the world in theatres.
Hanoi, Vietnam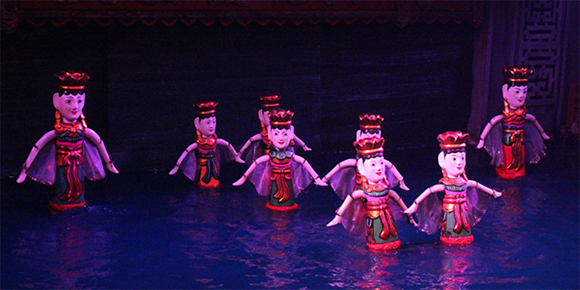 When you think of Vietnam, what instantly comes to mind is delicious food, secluded beaches, bustling cities and of course, loads of history! And where there's history, there is also art.
On my trip to Hanoi a few years ago, I learnt about a traditional water puppet show which dates back to the 11th century. The traditional art form was created in a time when villagers invented their own entertainment by standing waist-deep in the flooded rice paddy fields and used large rods to support puppets so that they appeared to be moving over the water.
Though the puppet show can be seen on stages all over the world, its a unique experience to see the performance in the original location at Thang Long Water Puppet Theatre in Hanoi. Performed in a pool of water, the puppets are controlled by around eight puppeteers hidden behind a screen.
The short sketches tell Vietnamese folk tales and legends as well as giving audiences an insight into day to day ancient village life, agriculture harvest and dances of magical mythical creatures. The performances are accompanied by traditional music with drums, horns, cymbals, operatics and bamboo flutes played by a Vietnamese orchestra.
There are plenty of moments of hilarity in this traditional show and along with the impressive puppetry, is a great way to learn more about Vietnamese culture and its history.
By Hira Desai